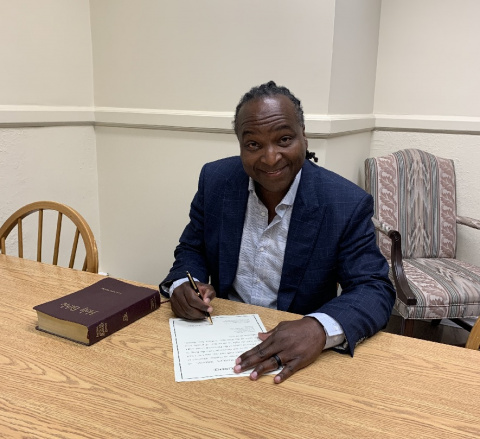 The former Director of the Serious Incident Response Team (SiRT) and a seasoned provincial Crown prosecutor are the two newest judges of the Provincial Court of Nova Scotia. 
Nova Scotia's Attorney General and Minister of Justice announced the appointments of Alonzo C. Wright, KC, and Mark Heerema, both of Halifax, in a news release earlier today. The appointments, which are effective immediately, bring the Provincial Court Bench back to full complement.
"These are outstanding appointments," said The Hon. Perry Borden, Chief Judge of the Provincial Court. "Having worked with both these individuals during my time as a Crown prosecutor, I can personally attest to the quality of their character and their work. Nova Scotians will be well served having them on the Bench."
The Hon. Judge Alonzo C. Wright
A graduate of Dalhousie University's Schulich School of Law, Judge Alonzo Wright has been a member of the Nova Scotia Barristers' Society since 1995, serving on numerous committees.
As a lawyer, he practised criminal law as a Crown attorney with the Nova Scotia Public Prosecution Service. He has also worked for the federal Department of Justice and was a municipal Crown attorney with the Halifax Regional Municipality. He received his Queen's Counsel (now King's Counsel) designation in April 2018.
In December 2022, he was appointed Director of the Serious Incident Response Team (SiRT), the first African Nova Scotian to achieve that position. He remained the Director until his appointment to the Provincial Court.  
Prior to joining the Bench, Judge Wright was a well-known community leader and volunteer and has received several awards for his volunteerism. Judge Wright was also a participant in the Nova Scotia Courts' justice day camps for young African Nova Scotians.
Judge Wright is one of four African Nova Scotian judges on the Provincial Court.   
The Hon. Judge Mark Heerema
Judge Mark Heerema graduated with a Master of Law from the University of Cambridge and was called to the Nova Scotia Bar in 2007.
Shortly after, he joined the Nova Scotia Public Prosecution Service's special prosecution team as a Crown attorney. During his time there, he handled many complex high-profile cases, including sexual assaults, fraud, aggravated assaults, homicides, and dangerous offender applications.
Judge Heerema is also published in the areas of mental health law, criminal law, and constitutional law.
With today's appointments, there are currently 18 female and 11 male judges who preside full-time on the Provincial Court. There are also 14 judges who sit part-time with another judge expected to retire later in October.