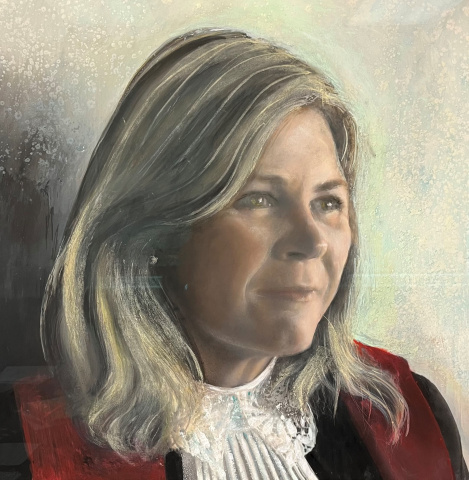 After almost 15 years serving on the Supreme Court of Nova Scotia (Family Division), The Honourable Justice Elizabeth Jollimore is retiring. 
"Justice Jollimore's departure will certainly be felt here in Nova Scotia but also across the country," said The Honourable Deborah K. Smith, Chief Justice of the Supreme Court.
"She is deeply committed to ongoing judicial education and her work nationally is well recognized. Her efforts to mentor, train and support Canadian judges have helped ensure newly appointed and experienced jurists alike are well educated in family law, which continues to be one of the most important areas of law that the Supreme Court deals with."
Justice Jollimore graduated from Dalhousie University in 1983 with a BA (Hons) in Sociology and Anthropology, receiving the University Medal for the highest academic standing in those areas. She completed her master's degree in Sociology as a Killam Scholar in 1985, while also completing her second year of law school. She graduated from the University of Toronto's Faculty of Law in 1987. 
Justice Jollimore was called to the Nova Scotia Bar in 1988 and was appointed Queen's Counsel 16 years later, in 2004. She was made a Fellow of the International Academy of Family Lawyers in 2006.
On Nov. 28, 2008, she was appointed a Justice of the Supreme Court of Nova Scotia. Since then, she has presided in the Family Division, primarily in Halifax.
Throughout her career on the Bench, Justice Jollimore has been a prolific writer and educator, authoring numerous court decisions and papers. 
Through Canada's National Judicial Institute, Justice Jollimore has taught at national courses on evidence, settlement conferences, oral judgments, family law for newly appointed judges, and case resolution, and at court conferences in British Columbia, Alberta, Saskatchewan, Manitoba, New Brunswick, Newfoundland and Labrador, Prince Edward Island and Nova Scotia. She has helped develop national online and in-person training programs for new Canadian judges and worked on various internal court committees.
Because Justice Jollimore was a full-time judge when she retired, her departure creates a new vacancy on the Supreme Court (Family Division). There are now three vacancies in that court.   
Artist Credit for Judicial Portrait: Allan Harding MacKay