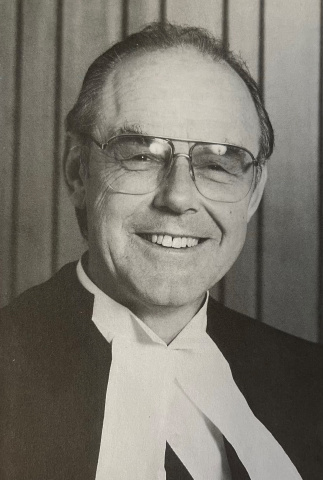 Judges on Nova Scotia's superior courts are mourning the loss of a well-known and well-respected jurist. 
The Hon. David R. Chipman, K.C., retired Justice of the Nova Scotia Court of Appeal and father of Nova Scotia Supreme Court Justice James L. Chipman, passed away on Monday, April 24, 2023, at the age of 92.   
The late Justice Chipman attended Dalhousie University, graduating with a BA in 1951 and an LLB in 1953. He was awarded the Smith Shield for proficiency in the law school moot court. He received a number of academic awards, including the University Medal in Law for the highest standing in the Law Class of 1953.  
Following graduation, Justice Chipman articled with C.W. Burchell, Q.C. and H.P. MacKeen, Q.C. He was called to the Bar in 1953 and was appointed a Queen's Counsel in 1968.  
Justice Chipman practiced law with Stewart McKelvey and its predecessor firms until his appointment to the Appeal Division of the Supreme Court of Nova Scotia in 1987. He became a Justice of the Nova Scotia Court of Appeal upon its creation in 1993.  
The Hon. Justice David Farrar of the Court of Appeal knew Justice Chipman for almost four decades, and articled with him starting in 1986. He remembers his mentor as much for his formidable cross-examination skills as his great sense of humour and quick wit.  
"He would strike fear in witnesses and opposing counsel alike," Justice Farrar recalls. "He was equally impressive as a judge. Upon his appointment to the Court of Appeal, Justice Chipman quickly established himself as a great writer and developed an expertise for criminal law, an area in which he had limited experience with up until then."    
Justice Chipman's elevation to the Bench represents the fifth generation of Ritchie family judges. He sat on the Nova Scotia Court of Appeal for nearly 18 years until his mandatory retirement at the age of 75. 
At his retirement, The Hon. Justice J.W.S. Saunders spoke fondly of his colleague.   
"The breadth of his knowledge, his experience, his keen sense of justice, and his ability to practically and incisively apply these qualities were obvious from the moment he joined the Court," said Justice Saunders. "He sat on 1,209 panels in cases where written decisions are reported … To gain an appreciation for the breadth of David's knowledge of the law one need only sample a few leading cases he authored."  
Prior to his retirement, Justice Chipman served on the Executive Committee of the Canadian Judges Conference and chaired the Independence of the Judiciary Committee for several years.  
Throughout his legal career, Justice Chipman participated extensively in professional education programs, delivering papers before legal and other professional societies, and was actively involved in many moot court programs. He volunteered with the Nova Scotia Barristers' Society and appeared as a guest lecturer at Dalhousie Law School well into his 80's.  Justice Chipman was a Fellow of the American College of Trial Lawyers, the International Society of Barristers and the International Academy of Trial Lawyers and a member of the Federation of Insurance Counsel. He was a member of the Canadian Bar Association Special Committee on the Independence of the Judiciary in Canada. He was a Life Fellow of the Foundation for Legal Research.  
To read Justice Chipman's full obituary, please visit the JA Snow Funeral website.