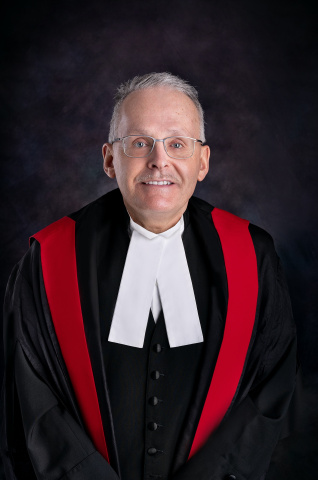 The Provincial Court of Nova Scotia bid goodbye to its judge for the Pictou region last month when The Honourable Del Atwood retired. His last day as a full-time judge was Friday, Dec. 30, 2022.
Judge Atwood was appointed to the Provincial and Family Courts on Nov. 10, 2009. Since then, he has presided primarily at the courthouse in Pictou. He is expected to continue presiding part-time as a per diem judge as needed across the province.
"Judge Atwood is well known for his patient and fair approach, whether it's in the courtroom or through his work on the global stage," said The Honourable Pamela Williams, Chief Judge of the Provincial Court of Nova Scotia. "His willingness to share his time and expertise with new and aspiring lawyers is admirable. The importance of this work cannot be understated."
Judge Del Atwood graduated from Dalhousie Law School in 1983. He practised law for more than two decades and was a Senior Crown Attorney with the Nova Scotia Public Prosecution Service when he was appointed to the Bench.
Judge Atwood holds dual Canadian and U.S. citizenship. In 2017, he was named a Life Fellow of the American Bar Foundation, an academic and research arm of the American Bar Association.
Judge Atwood served two years as a national consultant to the World Justice Project and has co-chaired the international courts and international criminal law committees of the American Bar Association International Law section. He is currently a member of the Global Judicial Integrity Network of the United Nations (UN) Office on Drugs and Crime.
Judge Atwood also volunteers his time judging the national rounds of the Jessup Moot and the international rounds of the International Criminal Court Moot Court Competition.