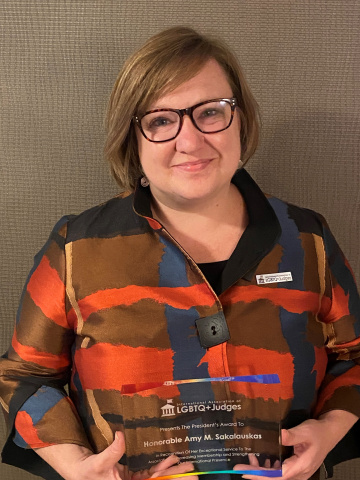 The International Association of LGBTQ+ Judges has recognized The Hon. Judge Amy Sakalauskas for her work increasing membership and strengthening the Association's international presence.  
The award was presented to Judge Sakalauskas in July, during the Association's 2023 Annual Meeting and Conference in Chicago, IL.  
Judge Sakalauskas completed her law degree at the University of New Brunswick and was admitted to the Nova Scotia Bar in 2003. Prior to her appointment to the Bench, she was working as a lawyer with the Nova Scotia Department of Justice, practicing in child protection. In her 13 years as a lawyer, she also served in private practice in the Annapolis Valley and Bedford. She is a Past President of the Canadian Bar Association – Nova Scotia Branch.
Judge Sakalauskas was appointed to the Provincial Court of Nova Scotia on March 31, 2017. She now presides primarily in Dartmouth and is the dedicated judge for the Domestic Violence Court Program in Halifax. 
Since joining the Bench, Judge Sakalauskas has served on both the Education Committee and the Membership Committee for the International Association of LGBTQ+ Judges. She is in the second year of her term as Vice President of the Association and is scheduled to take over as President in the summer of 2024.

LEARN MORE ABOUT THE INTERNATIONAL ASSOCIATION OF LGBTQ+ JUDGES