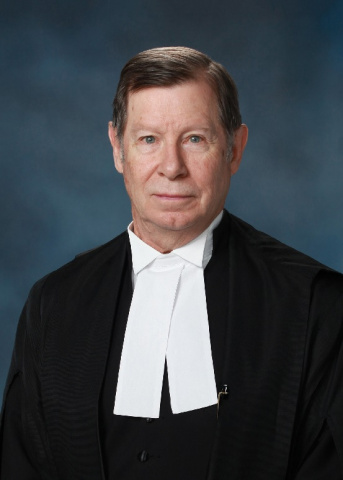 The Nova Scotia Court of Appeal is saying goodbye to one of its most experienced judges.
The Honourable Justice Duncan R. Beveridge was appointed to the Nova Scotia Court of Appeal in 2009, after serving just over a year on the Supreme Court of Nova Scotia. Last November he advised his colleagues of his intention to retire in the spring. He sat on his last appeal hearing on Jan. 30, 2023, and Monday marks his first day of retirement.
"Justice Beveridge has enjoyed an exemplary judicial career with the Court of Appeal," said The Honourable Michael J. Wood, Chief Justice of Nova Scotia. "He is recognized for his expertise in criminal law, but his legal knowledge extends far beyond that. He is known for his clear and accessible style of writing, and many of the appellate court's significant judgments from the past decade were authored by him."
Justice Beveridge is a graduate of Acadia University and Dalhousie Law School. He was called to the Nova Scotia Bar in April of 1979 and appointed Queen's Counsel in 1997. At the time of his appointment to the Supreme Court, he was working as a partner in the Halifax law firm of Beveridge, MacPherson and Buckle.
As a lawyer, Justice Beveridge lectured for Bar Admission Courses, Continuing Legal Education programs, both provincially and nationally, and taught part-time at Dalhousie Law School. He was also very involved with the work of the Nova Scotia Barristers' Society and participated in numerous law-related conferences as a presenter and panel member.
He is a past president of the Nova Scotia Criminal Lawyers' Association, former chair of the Canadian Bar Association's Nova Scotia Criminal Justice Section and was a member of the American Trial Lawyers Association, the National Association of Criminal Defence Lawyers, and the Board of Governors of Acadia University.
His busy schedule did not change when he became a judge. In addition to presiding over appeal hearings, appellate judges have many other responsibilities. Justice Beveridge is a trained judicial mediator and helped establish the Court of Appeal's mediation program. For years he co-chaired the Court of Appeal's law clerk program and was also a member of the Bench – Bar Liaison Committee.
As the senior judge of the Court of Appeal, he was the Acting Chief Justice of Nova Scotia when that position was vacant for several months in 2019.
"Justice Beveridge has been an invaluable colleague, providing advice and support to all members of the Court," said Chief Justice Wood. "We will miss him greatly and wish him all the best in his well-deserved retirement."
Where Justice Beveridge was a full-time judge at the time of his retirement, his departure creates a vacancy on the Court of Appeal. His is the only current vacancy on that court.